For businesses that rely on recurring revenue, providing a frictionless buying experience and building long-term relationships with customers is paramount. Enter Revenue Operations, or RevOps as we often use.
While Revenue Operations, or RevOps, may come across as yet another buzzword, it's so much more than that. Aligning your operations teams, optimizing your tech stack, and focusing on customer success are a few of the ways the Revenue Operations can make your business more profitable.
Let's explore how RevOps provides value beyond being another marketing buzzword to use during internal meetings.
What is Revenue Operations?
Revenue Operations is the ongoing process of aligning marketing, sales, and services to create an exceptional customer experience every time. Each of the aforementioned departments have their own priorities, goals, and tasks to accomplish. It's easy to lose sight of how these groups are meant to work together to truly optimize the buyer's journey. Adding dedicated resources for RevOps can not only help align these departments' efforts, but, more importantly, it can enhance the experiences of both your prospective and existing customers.


Systematic Revenue Operations helps with:
Managing your tech stack

Encouraging collaboration

Gathering data to confirm successes

Adding value and speed to the sales cycle

Gaining buy-in for extra projects
Why Your Business Needs RevOps
Callout: A RevOps approach can decrease the time spent on each sale by a representative up to 4 hours. Source: Imagine Business Development
There are a few indications that your business is in need of Revenue Operations:
You're in a growth spurt and need to cement your lead scoring to determine what additional qualifying content is needed.

You're

expanding your CRM to include marketing and sales

functions and need to optimize the data and information flowing between these departments.

You're struggling to aggregate the ROI of a project across all your promotion channels.
These are all likely scenarios and examples of where RevOps can make a real, tangible impact on business by breaking down walls and taking ownership for the data and value of everyone's combined efforts.
The investment is well-rewarded too, as companies that use a Revenue Operations and intelligence tool report 69% higher revenue growth and 59% improved win/loss rates according to Forrester. Taking the time to track data makes a huge difference in showcasing improvements to your efforts and communicating that to senior leadership as well.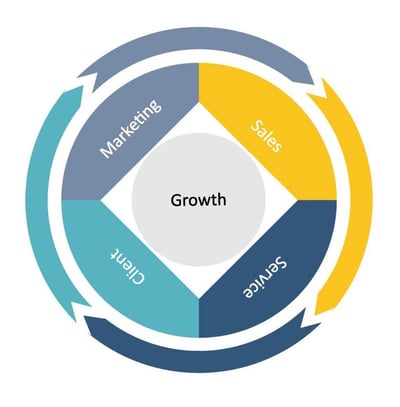 The Best Ways to Implement Revenue Operations
RevOps begins with honest, candid conversations about how to best improve the user and customer experience of your business. This could take the form of enlisting more marketing automation, or creating a system for gathering data that will benefit the entire customer lifecycle. Gathering those pain points from your departments – across marketing, sales, and services – is a great start to see where opportunities exist for Revenue Operations to assist with.
From there, be sure to:
Prioritize the top wishlist items for RevOps to take on

Conduct a technology audit to see where opportunities lie for automation

Map out a planned cadence to track campaigns and projects

Strategize based on results across all departments

Accumulate data to celebrate wins and gain more budget and buy-in
Simplify, Add Value, and Repeat
The processes from RevOps can get very specific – like chatbots for marketing, or lead scoring for sales, for example – but on a larger scale, Revenue Operations has incredible value in maintaining engagement with contacts and saving time for your employees to focus on revenue-generating activities.
Whether it's bringing more specificity to what constitutes a lead vs. a sales-qualified lead or creating communications to keep your prospects warm, RevOps is a multifaceted function that is more than a fancy buzzword. It's a better way of doing business.
If you're interested in learning more about how this fits in your business strategy, be sure to download our Growth Stack Guide to learn more.