So you're ready to start growing your email list – congratulations! Email is one of the most powerful, budget-friendly ways to grow your audience and boost engagement with your brand. In fact, email has one of the highest ROIs of any marketing channel, calculated at $42 per dollar spent according to Litmus.
That said, there is a right and wrong way to grow your email list. Without purchasing a database of cold, uninterested leads, you will avoid quite a few spam reports and see increased open and click-through rates.
It's normal to feel the scaries when getting started (trust me, this is the hardest part). But fear not! Attracting new contacts is easier than you might think. Here are some tips for growing your email list organically.
Start With Content CTAs
Nobody tires of good, quality content, especially when it's relevant to them. You'll be able to grow your email list by publishing blogs on your website with CTAs to subscribe so they can be notified of future blog posts. You can also use CTAs to promote premium content offers (By premium I mean offers such as eBooks, whitepapers, infographics, and other similar content that you gate behind a form).

To grab potential customers' attention in a way that feels authentic, be sure to put yourself in the mind of your ideal persona to create content that speaks to them. If you're limited on resources, start small – listicle-style articles are a great way to compile shareable stats in your industry.
You can also experiment with quizzes or have your employees conduct quick how-to videos on common pain points your persona(s) may be experiencing. The great thing about creating video content nowadays is it's really easy with a smartphone, and it doesn't have to be perfectly polished. Authenticity is what's going to capture the most viewers and gain an engaged following.
Add Subscribe Links in Your Email Signature
You send a lot of emails. I send a lot of emails. We all… you guessed it… send a lot of emails. Statista forecasts the number in 2022 will be as high as 333.2 billion. So put your signature to work, too! Add your latest content piece or a subscribe option with a value add, such as "Subscribe to our blog and get 10% off your first order," or something fun and oriented to your brand.
This is an easy way to broadcast what content you offer, especially if you frequently email vendors and people outside the business. Don't underestimate the power of a visual, eye-catching CTA.
Tip: To gain cross-channel followership and get more subscribers, consider something like a linktree in your signature, which can route your visitors to multiple different links under one URL. For an example – shameless plug – here's mine! www.linktr.ee/shelbycatcreates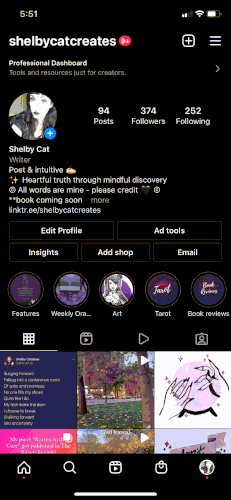 Guest Blog on Other Sites
The professional's version of quid pro quo, there is an incredible amount of opportunity for you to feature as a guest on other websites. Find prominent sources in your industry and conduct research on how to pitch or submit pieces. Your leadership team is likely to be active with other business leaders and committees, so see if someone would want to collaborate on a piece with you. You can often exchange links by letting them publish something on your company blog in exchange for one of theirs.
Great sites to write on to get your content in front of new audiences:
Medium

LinkedIn

Quora (you can publish links to your content on their platform to get it on another site!)
Tease Your Newsletter on Social Media
A newsletter is a great way to engage and retain subscribers by keeping them up-to-date on new content and company news. Include social share buttons so people can share their favorite articles directly from their email client. You can also repurpose some of that content on your own social media channels to expand it's reach.
Tip: Use a trackable URL in your post to see how many people ended up converting directly from your post. Then, in true marketing fashion, you can iterate and try different posting times or styles (such as images vs videos) to see what works best.
Use a Pop-up to Catch Attention
Usually, I'm against intrusive pop-ups that impact a user's experience. In the early days of the internet, pop ups were associated with viruses and spyware and that has tainted their reputation to this day. Thankfully, now there are many different variations that aren't wacky flashing poker ads or ones with microscopic x buttons. Using these responsibly can actually improve the user experience and add value to a webpage by promoting relevant content and limited-time offers.
You've got slide-in options, timed pop-ups, and even ones that only pop up when users are about to exit a page. This can have amazing results . According to HubSpot, the University of Alberta reported almost 500% in growth in their email subscribers. thanks to a timed pop up survey.
Make the Most of Your Email Growth
Don't feel pressured to have everything perfect with your marketing strategy before gaining subscribers. These things take time, and growing alongside your subscribers is sure to paint your business in a more genuine light as you continue improving.
Want to elevate your marketing strategy? Learn how our Growth Stack can help take your business to greater heights by downloading the free guide below.