To achieve business growth in 2020, digital marketing agencies must reconsider their inbound marketing approaches. Our goal with this article is to help your organization engage a fresh inbound marketing strategy by including customer personas.
We'll start with a few definitions.
Inbound Marketing Strategies & Tactics
If it's been a few years since Marketing 101, let's consider the difference between marketing strategies and tactics.
Marketing strategies are the broad goals your company has set for 2020. Examples include:
Inbound marketing strategies — to acquire new website traffic, or increase conversion rates

Increasing overall sales, including those made offline

Broadening the scope of products or services your current customers use
Marketing tactics are the specific methods your company will focus on to be successful in the above strategies. For instance:
Building or promoting a website through

search engine optimization

(SEO)

Content campaigns, blogs, and articles

Pay-per-click advertising (PPC) or SEO for organic results

Print, radio or television campaigns

Gift packs or coupons meant to introduce your regular customers to new products/services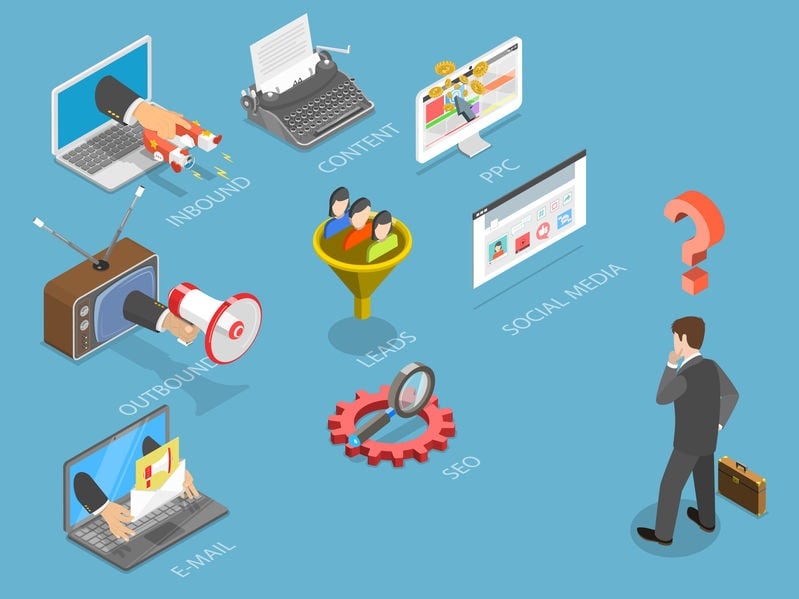 Inbound Marketing Strategies
An inbound marketing strategy is all about getting customers to your website and keeping them engaged with your organization. There are multiple ways to draw traffic to your site, but attracting new visitors isn't enough. The most successful inbound marketing campaigns will:
Engage customers with relevant information and problem-solving content

Settle customer service issues in a way that makes customers happy and eager to return

Create an ongoing dialog between your organization and the clients you serve

Identify your organization as the go-to source for relevant information for future research
In our modern marketing environment, we must do more than attract a customer once. We must keep them involved and delight them with the results.
The Key to Inbound Marketing in 2020 Lies in Customer Personas
By creating content to address the problems of your ideal customers, we attract qualified prospects. We'll also build your credibility as an expert in the field. You'll need to understand customers' issues, know their pain points, and answer relevant questions as they pertain to your customers' needs.
Which leads us to the value of customer personas.
A customer persona (or buyer persona) is a semi-fictional archetype that represents the key traits of your ideal clients. It's based on information collected from in-house research and analytics. Any quality inbound marketing campaign should consider customer personas. DON'T SKIP THIS STEP!
For most businesses, customer personas include demographic information and customer interests like:
Age, gender, education level, and annual earnings

Careers and industries — are your customers' medical professionals, laborers or artisans for instance

Physical locations

Standards of living — do your customers own a car, do they own or rent their home, have they saved for retirement?
Once created, quality buyer personas should be reviewed annually. Technology changes, as do the end-user interfaces. This means customer behavior changes too.
Customer interaction and technology are dynamically affecting each other in 2020.
For example, let's consider how zero-click queries through handheld devices could affect website traffic for a bank. Zero-click, verbal queries like "Siri, where is the nearest ATM?" or "Okay Google, is there a bank near me?" have affected PPC advertising and website traffic patterns for banks.
A quality customer persona allows banks to look deeper into a customer's needs. We can go beyond helping them find an ATM right now, and position your organization as the place to look for, say, IRAs and CDs too.
In closing, there is one final key to effective inbound marketing strategies for businesses looking for growth in 2020 — a sales staff that understands the initiative and a setting that supports them. Be sure your sales force understands the products you're looking to push in 2020 and the customers who will appreciate them. Support your team with quality marketing materials and the knowledge of your ideal customer that comes from buyer personas.
At WEBITMD, our approach is about driving business. A big part of that goal lies in thorough buyer personas that identify your best customer. If you'd like to learn more about The Growth Stack approach to marketing, contact us. We'd love to help you reach your ideal target market through organic search results, unique content, and paid social.