Influencers and Social Media Managers know this all too well: social media trends don't last long. What worked for you six months ago – even six weeks ago – might be actually hurting you today.
Social media is like a microcosm of our society; always changing, evolving, and going in cycles. And if you dare to go off trend, well, there will be consequences…
In order to stay at the top of the feed and continue gaining loyal followers, you need to constantly rethink your strategy and adapt to the latest trends and algorithm updates. This blog post will discuss some of the most important trends to keep in mind when shaping your 2023 social media strategy.

3 Important Social Media Trends To Follow in 2023
Nothing lasts forever. And in the world of social media, forever means about a year or longer.
But while some trends can change as quickly as in a day, there are also larger, overarching themes that persist for several months or even years. Some of the most important social media trends both b2b and b2c brands can use to grow their presence in 2023 will include:
Creating platform-native content

Focusing on individual pages over company pages

Planning your Twitter exit strategy
1. Create platform-native content
Platform-native content is content that lives within the platform it is being distributed on. It is formatted and optimized to be viewed in a specific context and does not require readers to click a link.
In other words, it's about posting content directly to social media instead of sending followers to your blog or website. That may seem counterintuitive, but it's not. Trust me. Let's look at some stats:
To put it simply, instead of using social media to share links and drive website visits, focus on creating an engaged community and sparking valuable conversations. Here are some ideas to get you started:
Extract the key takeaway from a recent piece of content and use it to start a Twitter thread.

Take a blog post and truncate it to 100 words or so. Use it for a LinkedIn post.

Turn your blog post or ebook into an Instagram carousel, or make a video recap and turn it into a Reel.
And here are some real-life examples of native content implemented successfully on social media:
This is the beginning of a long Twitter thread started by Databox to promote a new case study. Notice how it delivers a lot of the content right there within the platform.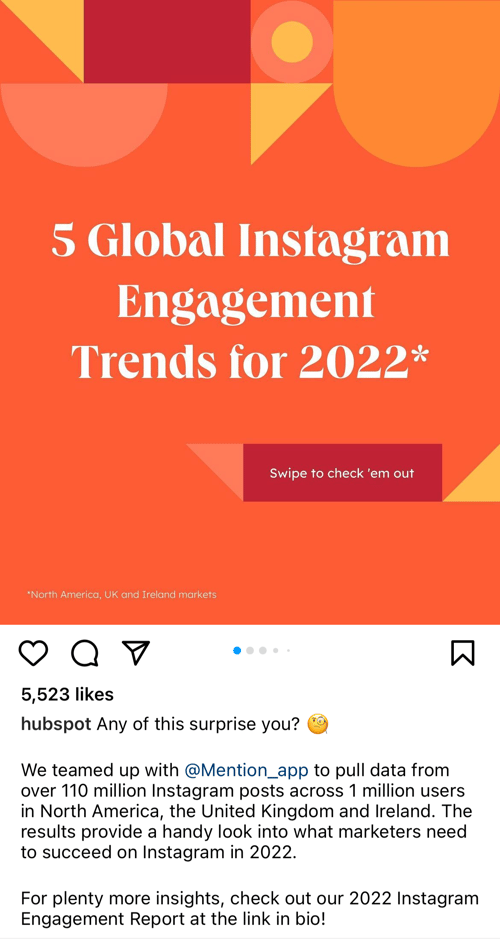 This is an Instagram post from HubSpot promoting a new report. Notice how they converted the information into a carousel – a popular format on this particular platform.
Learn more about Platform-native content here.
2. Focus on personal pages over company pages
In 2023, the social media game is all about building a community and creating meaningful conversations with your audience. Brands need to go beyond promoting new content and distributing links and start actively engaging with their audiences.
While some brands have been successful with this on Twitter or Instagram, LinkedIn is a little bit different. LinkedIn Company Pages are passive. That means you can't proactively connect with other users or have one-to-one conversations. Only personal pages can do that.
It's also worth noting that employee-shared posts get 561% higher reach than corporate posts.
So instead of blasting new content to an audience through a company page, more businesses are encouraging their employees to flesh out their personal brands and start meaningful conversations to generate leads from social media.
3. Twitter's Questionable Future
You may have noticed by now that most of this post has been focused on LinkedIn strategy. There are good reasons for that:
Facebook is basically a ghost town these days. I can't think of any brands (b2b or b2c) that are big on Facebook right now.

TikTok and Instagram are different animals that feed off of images and videos. Plus, these aren't always the best channels for b2b brands to invest in.

WTF is going on with Twitter? Are they going bankrupt? Do people still work there???
That last point is most important. When Elon took over Twitter in October of 2022, it was immediate chaos:
There was talk of bankruptcy

policies changed

almost half the workforce

was laid off

They lost

approximately one-third

of their top 100 advertisers
Most of this just happened or is still happening, so it's hard to tell what the full impact of Elon's Twitter takeover will be. But with the audience growing smaller – and with warnings of bankruptcy becoming louder and more frequent – it's a safe bet to place your money on other platforms like LinkedIn and capitalize on more promising social trends in 2023.
Winning on Social Media in 2023
Keeping up with social media trends is a full time job of its own. If you're having trouble gaining traction and reaching your goals, WEBITMD is here to help you create and execute a winning social media strategy in 2023. We have helped dozens of small and medium-sized businesses grow their businesses through digital channels since 2008.
Download your free Growth Stack Guide below or get in touch today to learn more about our approach.