Tracking lead sources in HubSpot will give you the most accurate view of which channels are producing the most (and most valuable) leads. And since this is arguably on the most important aspects of revenue operations (RevOps) that will directly influence budget and ROI-related decisions, you will want to install your tracking code right now if you haven't done so already.
Luckily, tracking lead sources in HubSpot is actually very simple. This article will show you how to set up lead source tracking the easy way as well as how to use the lead source field in your marketing reports.

What is a lead source?
The channel which initially attracted a lead to your website is the original lead source. This is how you know which tactics and channels are producing the most/best leads.
Examples of a lead source can include the following:
Organic search

Paid search

Referral

Email marketing

Direct traffic
Lead source refers to the original channel that attracted a lead to your website.Even if the lead uses a secondary lead source to contact the company, you still want to know what the original lead source was.
For example, if a lead first discovers your business through an organic search and later converts on a remarketing ad, the original lead source will show up as organic search. The ad campaign would be considered a secondary lead source.
Why does HubSpot have different lead source fields?
One of the first things you'll notice when you start tracking lead sources in HubSpot is that HubSpot actually has three different original source fields.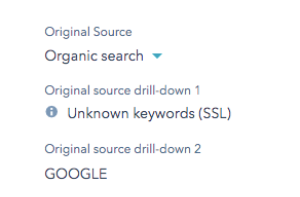 This can be confusing at first so let's look at what they all mean and how they are different:
Original source

– This is the channel through which new contact first interacted with your business

Original source drill-down 1

– This field provides additional context such as the name of a social media site or a specific ad campaign

Original source drill-down 2

– This provides even further context, such as the name of a blog post, website URL, or the title of an individual email.
The original source field can be used to give you a broad picture of your lead sources while the two drill-down fields can help you get even more specific to find out which website pages or ad sets are having the most impact.
The Easy Way to Set Up Lead Source Tracking in HubSpot
If you have pages that are hosted on the HubSpot CMS Hub (landing pages, web pages, or blog posts), you don't have to set up lead source tracking. HubSpot will automatically keep track of lead sources and store that information in each individual contact record.
However, if your blog or website is not built on HubSpot CMS, you will need to install a tracking code. This goes for WordPress, Squarespace, Wix, and any other platform that is not – you guess it – HubSpot.

Here's how you can easily install the HubSpot tracking code on your website:
In your HubSpot account, click the "settings" icon in the top right corner

Click on

Tracking and Analytics

on the left hand sidebar

Click on

Tracking Code

Under the embed code, click the orange "Copy" button

Paste the embed into your website's footer file or another file that carries across all pages
That's It! Just a few simple clicks and you can begin tracking lead sources in HubSpot and using that data in your marketing reports.
If you aren't comfortable editing or don't have access to your website's back end, you can ask a member of your dev team to install the code for you.
Why track lead sources, anyway?
Understanding what draws a visitor to your business and how the visitor initially discovers your company can give you essential data about your website's traffic. That data can then be used to inform your marketing and content strategy moving forward.
For example, if you determine that an overwhelming majority of new leads are coming from organic search, you might decide to double down on top-of-funnel blog posts that rank high in the search results.
On the other hand, you might determine that paid search is your most lucrative channel. In this case, you would want to create more landing pages or bottom-of-funnel content offers to increase conversions.
Setting up lead source tracking in HubSpot is one of the first things you should do when setting up your portal. The sooner you have data coming in, the sooner you can build meaningful reports and plan your next move.
Using the HubSpot Lead Source Field
Now you know how and why to start tracking lead sources in HubSpot. But getting the most value from this data will require close alignment between marketing and sales teams.
Knowing where your leads are coming from is great, but knowing where revenue is coming from is even better. Closing the loop between marketing and sales will help RevOps teams determine which leads are associated with the highest dollar amounts and which channel they came from.
WEBITMD is a platinum status HubSpot partner agency. We work primarily with small to medium-sized businesses to align marketing and sales teams while building technology stacks that support your business goals.
Need help configuring HubSpot? Download your free HubSpot Onboarding Checklist for a step-by-step walkthrough or contact us to talk further,
Editor's Note: This article was originally published in August 2020 by WEBITMD. It has since been updated to reflect current best practices, services, and capabilities.